Sharing The Blessings Of Sea
A TASTE OF SEA YOU DESERVE
We offer premium quality and sustainable seafood to be served at your home. Our product is a high quality product that is well suited for health-conscious and quality-seeking consumers.
THE SUPERIOR TILAPIA CHOICE
Our Tilapia Farm is located in the state of Perak, Malaysia where the eco-friendly farming operation are located in the pristine rainforest-fed freshwater of Lake Temenggor. Our Tilapia is a unique strain of GenoMar Supreme Tilapia, likely the best quality Tilapia broodstock in aquaculture.  We ensure every step from egg-to-plate is according to the highest standard and the quality is controlled thoroughly. Our fish is a specially bred tilapia strain which has been carefully bred and selected for high performance and quality for more than 20 generations.
The fish is all natural.
Did you know?
Tilapia
Tilapia is often called "St. Peter's Fish" according to the book of Matthew the fish that St. Peter caught was a tilapia. It is also called as Nile mouth brooder or Nile perch
Red Snapper
Red snapper can grow to about 40 inches, weigh up to 50 pounds and live more than 50 years!
Golden Pomfret
Golden pomfret bodies have a teardrop shape, with a wide head that tapers back towards the tail. Some have short fins, others have quite lengthy dorsal and anal fins on their upper and lower sides.
Suggested Recipes
Baked Red Snapper With Garlic and Herbs Recipe
2 red snapper fillets, 4 tablespoons butter, 1 medium clove garlic (minced), 1/2 teaspoon  favorite seasoning with salt, 1/2 teaspoon fresh ground black pepper, 1 to 2 teaspoons fresh parsley (minced), 3 to 4 tablespoons plain breadcrumbs, 2 tablespoons parmesan cheese (freshly grated)
Preparation:
In a pan, melt butter with garlic, seasoning blend, pepper and parsley. Cook over low heat for 2 minutes, just to blend flavors. Brush both sides of fish fillets with the butter and herb mixture.
Toss the breadcrumbs with the remaining butter mixture and Parmesan cheese. Sprinkle the breadcrumbs over the fillets.
Bake in the preheated oven for about 12 minutes, depending on the thickness of the red snapper fillets. Ready to be served.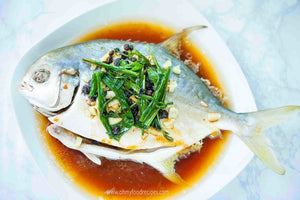 Steam Fish with Oyster Sauce
1 golden pomfret, 4 tablespoons garlic (minced), 2 tablespoons black pepper, green onion (minced), 3 tablespoons osyter sauce, 1 teaspoon salt and sugar, lime leaves and lemongrass (minced)
Preparation:
Put all ingredients with the fish and steam for 15-20 mins. Ready to be served.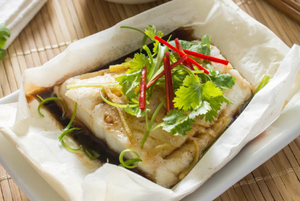 Chinese Style Oven Baked Fish
2 golden snapper fillets, 2 tablespoons garlic and ginger (minced), 2 tablespoons black pepper.
Preparation:
Mix all in parchment paper and baked in oven for 20 mins.
Sauce:
Green onion (minced), 1 tablespoon of osyter sauce, 1 tablespoon of fish sauce, 1 teaspoon salt and sugar, 1 tablespoon lime juice.
Preparation:
Mix all ingredients together and pour over the fish. Ready to be served.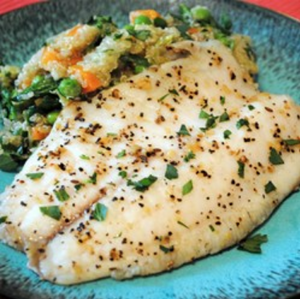 Baked Tilapia
4 ounce tilapia fillets, 2 teaspoon butter,        1/4 teaspoon seasoning, 1/2 teaspoon garlic salt, 1 lemon sliced, 1 (16 ounce) package frozen cauliflower with broccoli and red pepper

Preparation:

Preheat the oven to 375 degree F (190 Degree C). Grease a 9x13 inch baking dish.
Place the tilapia fillets in the bottom of the baking dish and dot with butter. Season with seasoning and garlic salt. Top each one with a slice or two of lemon. Arrange the frozen mixed vegetables around the fish, and season lightly with salt and pepper.
Cover the dish and bake for 25 to 30 minutes in the preheated oven, until vegetables are tender. Fish are ready to be served.
Tips: Aluminium foil can be used to keep food moist, cook it evenly and make cleaning easier.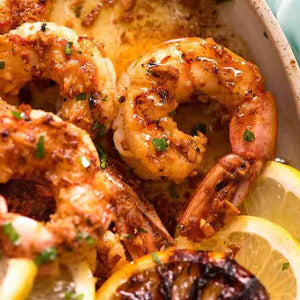 Asian Chilli Garlic Prawns
500g prawns peeled and deveined,              1 1/2 tablespoon vegetable oil, 3 garlic cloves (very finely minced) 2 teaspoon ginger (chopped), 1 teaspoon chilli flakes, 125 ml water, 3 tablespoon sriracha, 2 teaspoon soy sauce , 3 tablespoon brown sugar.
Preparation:
Heat oil in a large skillet over high heat. Add half the prawns and sear for about 45 seconds on each side until golden, then remove into bowl.
Return skillet to stove, heat sesame oil. Add garlic, ginger and chilli flakes. Cook until garlic turns golden.
Add water, then Sriracha, soy sauce and sugar. Stir, increase heat to medium high, and let it simmer for 3 minutes or until the sauce starts to thicken to a thin syrup consistency.
Return prawns into skillet and toss to coat in sauce. Cook for 1 - 2 minutes until sauce is reduced and coats the prawns nicely.
Garnish with sesame seeds, fresh chilli and shallots if desired. Prawns are ready to be served.
Pan-Fried Garlic Butter Prawns
20 whole shell-on prawns (800g), 2 tbsp butter, 1 tsp vegetable oil, rock salt, 2 cloves garlic (crushed).
Preparation:
With a sharp knife, score down the back of the shrimp. Remove the thin, digestive tract with the tip of the knife. Repeat with the rest of the prawns. Rinse the prawns under running water and pat dry with paper towels.
Melt the butter, add the oil and generously grind salt in a large frying pan. Add the garlic and prawns, and fry over a high heat, stirring for 3 – 4 minutes until the prawns are pink. Serve immediately.
Grilled Shishamo
Shishamo, Canola Oil, Salt, Soy Sauce and Lemon
Preparation:
Rinse shishamo gently with water. Pat dry with a paper towel and season with salt. 
Spray canola oil on a grill pan.
Over medium-high heat, gently grill fish on each side about 4 to 5 minutes until browned. If you prefer the skin of the fish to be more on the crisp side, grill a few minutes longer to taste. 
Wash lettuce and serve this on the side, seasoning the lettuce and fish with soy sauce and lemon juice to taste. Ready to be served.