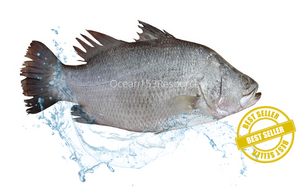 Net weight after cleaning, scalling and gutting: ± 800g - 1.0kg per fish.
Seabass has a firm, moist texture and large flakes. The fish is prized for its sweet, buttery flavor. Small seabass are milder in flavor than larger fish. The few bones in the fish are large and easily removed.
Benefits of Seabass:
High source of iron and calcium.

Good source of vitamin B12.

Help prevent and treat depression, making you a happier person.
☑ No Preservatives
☑ No Additives
☑ No Chemical
☑ Quality Certified
☑ Process Safety Certified
☑ Environmentally Sustainable