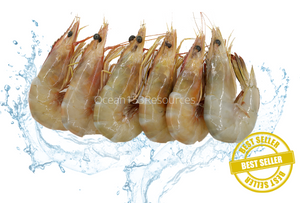 Net weight:± 700g
Prawn size: L/XL
Grade: AA
The fleshy bodies and heads of prawns are sweet with the smell of the sea. The flesh is opaque and pale orange.
Benefits of Sea Prawn:
Prawns are a rich source of selenium, one of the most effective antioxidants for maintaining healthy cells.
Contain high levels of Zinc, which is important to develop a healthy immune system. 
Helps build strong bones because they contain phosphorous, copper and magnesium.
☑ No preservatives
☑ No additives
☑ No chemical
☑ Grade AA Quality
☑ Wild catch by net casting
☑ Environmental friendly method