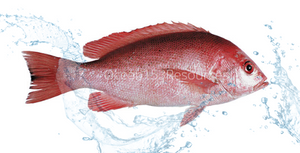 Net weight after cleaning, scalling and gutting: ± 800g - 1.0kg per fish
Red snapper is one of the most popular of all white fish. It has a firm texture and a sweet, nutty flavor.
Benefits of red snapper:
Low-calorie fish

High-protein fish that contains all nine essential amino acids

Packed with Vitamins D and E (minerals, magnesium and selenium)

Good source of omega-3 fatty acids.
☑ No preservatives
☑ No additives
☑ No chemical
☑ Quality certified
☑ Process safety certified
☑ Environmentally sustainable